Discover more from Finding Ease with Veronica
Yoga, breathwork, meditation and more.
Finding Ease While Moving Across the Country
After 13 years, I quit my job and left Northern California
For the past few months I've been planning and preparing for a major life transition (which explains my Substack radio silence recently). My partner was offered a great job opportunity at a university in North Carolina and after some thoughtful consideration, we decided to take a leap of faith. While my job was going pretty well and I loved my California friends and communities, I was ready for a big life change. After 13 years, my partner and I quit our jobs, sold our house, bought a new house, packed everything up, and left Northern California.
If you've ever gone through a major life transition like moving across the country, you know how difficult it can be. So many decisions, so many expenses. While I knew the whole experience was going to be challenging, I didn't quite understand the toll it would take on me mentally and physically.
During the process of selling our house we had TWO buyers back out on us, which was especially stressful and nerve-wracking because we had already put an offer on a new house and with the closing date was looming, we needed to close on our California house in just a few weeks to buy the North Carolina house. When our real estate agent broke the news to us that the second buyer backed out, I literally became sick with anxiety and fear. (Luckily, it all worked out. We were in contract with a third buyer within a couple days and we closed on our California house just in time to close on the North Carolina house!)
My worry also extended to my two cats, Cleo and Ptolly, who have always been anxious and easily scared. I wasn't sure how they would handle the 5-day trek across the country and the stress of moving to a brand new place. (To my surprise, they did great!)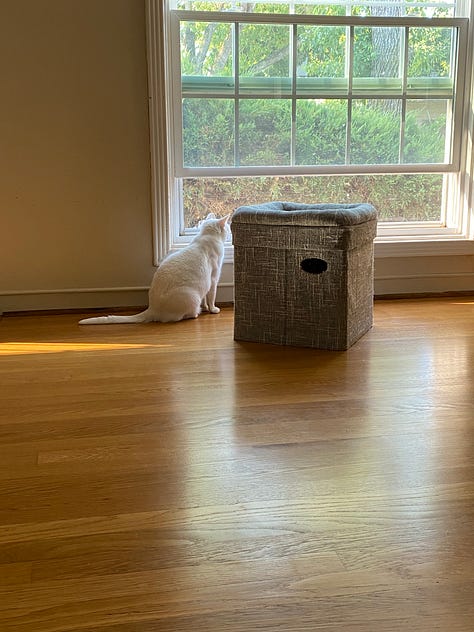 Before this move I never really thought of myself as a person with anxiety, but now I have a much deeper understanding of how my anxiety works and what it looks like. When my anxiety is amplified, it shows up as intense food cravings, sleep issues, and a big knot around my solar plexus.
I also experienced and continue to experience a lot of grief over leaving close friends, family members, and colleagues, as well as our lovely California home, with its fruit trees, hardwood floors, and close proximity to work. There are so many people that I deeply miss and the idea of finding new friends and new communities feels a bit daunting.
A New York Times article from 2020 discusses some helpful tips for managing life transitions. They include:
Start with your transition superpower: Determine if you tend to gravitate towards the "long goodbye", "the messy middle," or the "new beginning." These three phases may not happen in any specific order. At this moment, I feel like I am in the messy middle, although I am not sure I would consider that to be a "superpower."

Identify your emotions: As I mentioned earlier, the past few months have been full of anxiety, stress, and grief, but there has also been a lot of joy, fun, curiosity, and enthusiasm.

Shed something: At least for the time being I am shedding a full-time job, which is so liberating. I have a part-time opportunity lined up, which will give me a little extra time to pursue some passion projects and, when a great opportunity is available, return to a full-time position.

Try something creative: I am hoping to do more writing and gardening, as well as create a yoga/meditation/office space in my home.

Rewrite your life story: A major change is an opportunity to retell our life stories and how we got to where we are. As I slowly settle into my new life, I feel like each day I am re-writing a new version of who I am.
I would also add having some sort of mindful practice to this list. I leaned heavily into my tools of yoga, exercise, and meditation. They helped me find moments of ease. Without them, my stress and anxiety would have been much more intense.
I wasn't always as consistent as I had hoped (—and that's ok!); for example, during our long drive across the country I intended to get up each morning and do some sort of movement practice, but that only happened one out of the 5 days because we kept losing an hour due to the timezone changes and I decided to prioritize sleep. But I did a decent job of doing a brief meditation each morning to set my energy for the day.
Now that we've made it to North Carolina and the house is slowly coming together, I am excited to discover and re-discover ways of finding ease in and amongst the Blue Ridge Mountains.
It is not lost on me that while I talk about the difficulty of managing life transitions, some people are going through major life catastrophes, such as the people who lost their homes, businesses, and even their lives in the recent fires in Maui. I hope you'll join me in supporting relief efforts by donating funds to organizations, such as the Hawai'i Food Bank.